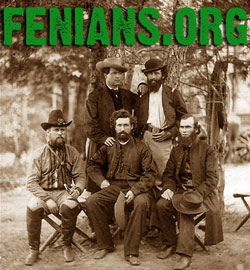 Fenians.org is dedicated to the history of the early Fenian movement and the Irish-American insurgent raid on Canada on June 1-3, 1866. The invasion culminated with the battles at Limestone Ridge and Fort Erie, on June 2, 1866, known collectively as the Battle of Ridgeway, Canada's first modern battle fought in a new age of telegraph, railroad, steam power, mass print media, parliamentary democracy and the rifled barrel.

For the Fenians the Battle of Ridgeway was the first celebrated Irish victory over the forces of the British Empire since the Battle of Fontenoy when in 1745 the exile Irish brigade –'The Wild Geese'—in the service of the French king charged the Duke of Cumberland's elite Coldstream Guards and scattered them. The Fenians, also known as the Irish Revolutionary Brotherhood, and later the Irish Republican Brotherhood (I.R.B.) were the predecessors of the I.R.A.—the Irish Republican Army.

For Canadians Ridgeway was the first battle to be fought exclusively by Canadian troops and led on the battlefield entirely by Canadian officers. The Battle of Ridgeway was also the last battle fought in what would become the Province of Ontario in the 1867 Confederation of Canada. It was also the battle in which Canada's army suffered its first nine battlefield deaths: the first officer, sergeant, corporal and six privates killed in action.